This was the kind of win that persuades pretenders they can, indeed, be challengers. Arsenal were already top of the league before undermining Liverpool's credentials but Arsène Wenger's side ended the day in splendid isolation at the summit, their advantage from a division that is supposed to contain up to six other contenders an eye-catching five points.
The manager allowed himself a little punch of the air in delight at the final whistle, his sense of satisfaction reflected in the chorus of triumph that echoed around the arena. This squad may still feel shallow, with injuries having left inexperienced youth players on the bench, but the first team feels impressive when they click like this. Mikel Arteta was a steadying influence in midfield, Santi Cazorla and Mesut Özil a blur of inventive intent. Bacary Sagna looks the rampaging right-back of old, Wojciech Szczesny feels assured where last year he was susceptible and, in Aaron Ramsey, Arsenal boast a player enjoying a personal resurgence.
The Welshman's goal here, the ball collected and then dispatched from distance after Özil had shifted it inside and Kolo Touré and Mamadou Sakho had allowed their opponent a split second to adjust his body, was stunningly executed. Ramsey now boasts 10 for the season to date for Arsenal, plus one for Wales. He had managed only 11 for his club in his five previous years, though his contribution should not be measured in goals alone. He has clicked on to the same wavelength as Cazorla and even Özil and, when that trio thrive, the Londoners can feel irrepressible. Jack Wilshere, absent nursing those familiar ankle problems, was not missed.
The manager relished Ramsey's display and heaped praise on a defence that has shipped only six goals in nine league games since the startling defeat by Aston Villa on the opening day. Wenger referred to that as "our massive blip" but is fast being forgotten. Borussia Dortmund and Chelsea may have inflicted defeats at the Emirates Stadium in recent weeks but confidence will have been restored by this performance. In an unpredictable division where José Mourinho's team can then surrender rather limply at Newcastle United just when momentum appeared to be with them, Wenger can dare to dream.
The next few months will still expose just how prolonged his team's challenge can be. There are awkward games ahead, with contests against Manchester United, Southampton, Everton, Manchester City and Chelsea among the next seven league matches up to Christmas, but they have eked out breathing space with a sprinter's start.
"That's something we've been lacking over the last few seasons," said Ramsey. "We've got off slowly and have been left playing catch-up, but we've got a gap now. And our form from Christmas to the end of the season has been phenomenal in the last few seasons." If they repeat the bursts of form that secured them top-four finishes in the last two seasons, the rest will do well to keep up.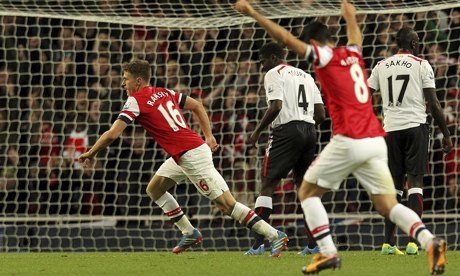 The home side were the dominant force here, particularly through the second period until sloppiness threatened to creep in late on, with their advantage having been established. Arteta slid a pass down the right channel beyond Aly Cissokho, whose rustiness left the visitors vulnerable, for Sagna to whip across goal on the gallop. The Frenchman's delivery was vicious, the ball bouncing once before Cazorla planted a header on to an upright. Liverpool were still in disarray, Martin Skrtel's reactions dulled and laboured, when the Spaniard thumped the rebound into the net.
In truth, Liverpool may have to endure this as a reality check. They had arrived in the capital buoyed by their own form and sensing blood, seeking to exploit all the doubts that had seeped in afterArsenal's recent losses in the Champions League and Capital One Cup, only to fizzle out in disappointment.
Luis Suárez, the subject of that infamous £40,000,001 bid by the London club over the summer, was slippery and menacing, Daniel Sturridge just as impressive at his side, but there was too much vulnerability at the back. Brendan Rodgers had been denied Glen Johnson after the right-back spent the evening in hospital – the reason given was an infection to his face – but everything felt makeshift in his absence. Liverpool's back-line morphed from three centre-halves to a back four, and then virtually a free-for-all as they chased the contest. None of the combinations or arrangements suggested surety.
This will have annoyed Suárez. The Uruguayan might have sparked an equaliser, sending Sturridge away down the left with a quickly taken free-kick after he had been fouled by Sagna. Jordan Henderson tapped in the forward's cross only for Martin Atkinson to opt to book the Arsenal full-back for the original offence and rule against the speedy taking of the dead ball.
"I got an explanation from the fourth official, saying if he'd allowed the second phase of play –where we scored – to stand he could not have booked their player," said Rodgers. "It was disappointing, a poor decision because you want to let the game flow and Luis's was clever play. It didn't help us."
Had that stood then Arsenal might have been exposed as fragile once again. Instead, they grew and, even if Suárez clipped a post, had delivered their own statement of intent by the end.
They have passed their biggest top-flight test to date. Next up in the league is a trip to Old Trafford.