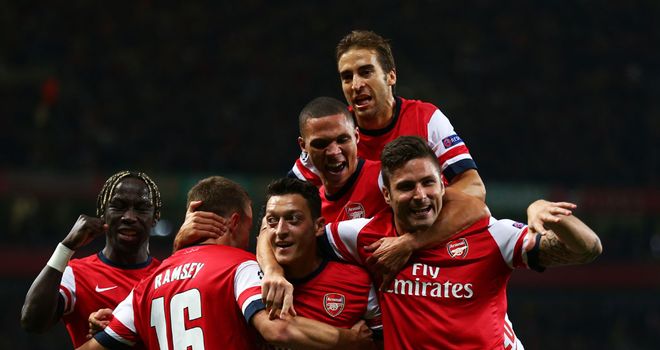 Mesut Ozil and Olivier Giroud both scored in the win over Napoli
'Strengthen while you're ahead' is the age-old maxim aimed at title winners entering the summer transfer window. Don't quit when you've reached the top; instead, move the boundaries. Realign your targets. Always strive to improve and never - never - rest on your laurels.
It's an adage that Manchester United foolishly ignored to their detriment following David Moyes' appointment in July and the Premier League champions have subsequently endured a difficult and embarrassing start to the new campaign.
Wenger reaction
Manchester City were equally guilty last season, when they added Scott Sinclair, Jack Rodwell and Javi Garcia to a title-winning squad and rejected Roberto Mancini's request for Robin van Persie, Daniele De Rossi and Eden Hazard.
Arsenal have avoided such problems in recent years, of course, after lingering slightly lower than their rivals in the table. But the same principle suddenly applies following their storming start to the season that is now boosted by the return of Mikel Arteta and Tomas Rosicky, with Santi Cazorla soon to follow.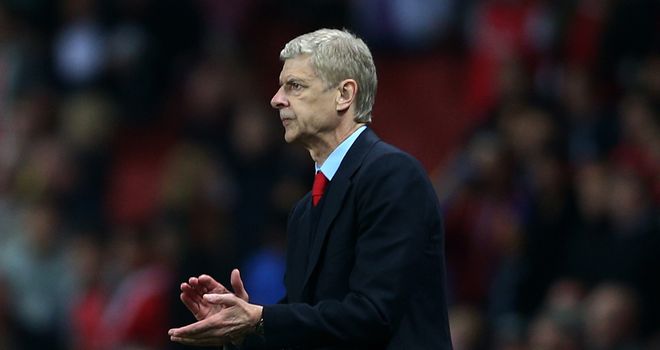 Arsene Wenger: Arsenal are on a roll and the manager deserves big credit
So much has been said about Arsene Wenger's failure to add enough quality to Gunners' squad - other than Mesut Ozil, of course - that perhaps the strength in depth Arsenal do possess has been wilfully ignored. It's a simple point, but you're only as good as the players you have available, and at the moment Arsenal are very, very good.
While there were legitimate concerns over the Gunners' lack of options in the summer, those fears have dissipated due the enormous improvement of several key players. Wenger's unrelenting faith in his team's quality was met with snorts of derision and howls to spend some money in the opening-day defeat by Aston Villa. But the manager's patience has finally been rewarded. At the moment, no-one can deny that Arsene knows.
Arteta reaction
Aaron Ramsey's current displays are nothing short of exceptional - with the midfielder claiming another assist against Napoli on Tuesday in the UEFA Champions League victory - while Olivier Giroud has stepped up with five strikes in eight matches.
Bacary Sagna is gradually rediscovering his best form, Per Mertesacker has been both a literal and figurative giant at the back, and Ozil is the glue that binds the complete package together. Apart from Jack Wilshere and Thomas Vermaelen, every Arsenal player is contributing close to maximum.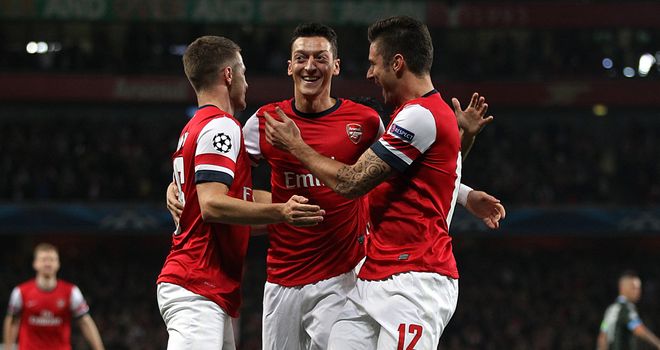 Ozil: Arsenal's deadline day signing has brought extra confidence to Emirates Stadium
It has been a start to the season reminiscent of the Gunners' blistering beginning to the 2007/08 campaign, and they flaunted their surging confidence in 15 marvellous minutes on Tuesday. Both Arsenal and Napoli entered the match on the back of excellent runs, but only one showed any sort of momentum at the Emirates.
Napoli and their team of haircuts were desperately disappointing, of course, hiding in their camouflage kit and exhibiting none of the courage that earned a 2-1 victory over Borussia Dortmund on the first Champions League Match Day. But Arsenal didn't allow their opponents time to settle, playing with verve and intent and opening the scoring through Ozil's wonderful side-footed finish.
While Arteta and Rosicky looked a little rusty on their return, the experienced duo will be key to the Gunners maintaining their form. Injuries have cost Arsenal dearly in recent seasons, but the drip-drip effect of players recovering from niggles and strains should now only serve to complement a team that is showing no signs of slowing down.
Arsenal already possess a strong hand and they are continuing to pick up aces. A difficult double header against Dortmund awaits, as well as tough tests against Chelsea in the League Cup and Liverpool and Manchester United in the league at the start of November but, at the moment, who would bet against them?